We knew it was likely, now it is official – the Asus Zenfone 8 is headed to India. Asus has launched a landing page for the phone and while the page just calls it "new phone", we think it will trade under the "8z" name.
The reason previous Zenfones adopted the "z" naming is that an Indian company owns the Zen and ZenMobile trademarks, which lead a local court to bar Asus from using the Zenfone name as it could confuse consumers.
Aside from the new name tag, however, the phone is as we've seen it in Europe and Taiwan – a petite Snapdragon 888 flagship with high end features. The Sony Xperia 5 III is unlikely to appear on the subcontinent, so if you want a small flagship with a 120 Hz HDR10+ display, stereo speakers, 3.5 mm headphone jack, IP68 rating, the 8z has you covered.
Is the Asus Zenfone 8 Flip coming? It seems so, yes, you can see it at the bottom of the page. And we know it's the 8 Flip rather than a Zenfone 7 because of the wallpaper (other than that they can be hard to tell apart).
Check out our written and video review of the Zenfone 8, we've also reviewed the Zenfone 8 Flip, complete with a video by Will.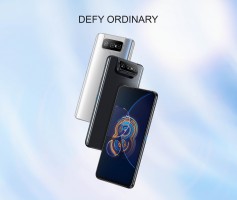 The Asus Zenfone 8 Flip/8z Flip is coming too
It's not yet clear when the two Asus 8z phones are coming to India. That depends on the progress of the COVID-19 pandemic, Asus like many others has chosen to defer events until the situation improves.
How much will they cost? Well, there was never a 7z, but the Asus 6Z (2019's Zenfone 6) was selling for INR 36,000, which works out to around €400. Considering that the Zenfone 8 is €600 even with the early bird pricing, the 8z will probably cost more than previous models. Just not more than the INR 50,000 that the ROG Phone 5 sells for.